The best photo editors can deliver the tools to enhance your creativity with digital images.
Photo editors have become increasingly common, especially on mobile devices for the basic editing of photos. However, if you're a design professional you'll need the best photo editor software, which means something far more advanced than most general users will normally use.
There are a number of professional photo editors suites available, and Photoshop has long been seen as the market leader. However, while Photoshop offers a comprehensive set of tools for photo manipulation, it doesn't offer other features such as cataloging your image library or feed your creative ideas, which other packages may offer. 
Additionally, Photoshop is no longer so much of a standalone tool kit but part of a wider creative cloud offering bundled with other Adobe products as well. Meanwhile, competitors have created alternatives that can deliver better tools, better organization, better inspiration or just better value.
Our list of the best photo editors are not in any particular order, since each program has its own strengths, so make sure you keep going to the end of the list, because there's something here for everyone.
However, we don't think you'll stop with just the best photo editors, but will also need other software tools and hardware to help you. So you might also want to check out the following guides too:
In the meantime, here are the best photo editors we think are currently available.

Photoshop is still the go-to image-editing tool for artists, illustrators and designers. Photoshop's layering, masking and retouching tools are still the standard by which all others are judged, but it's designed for painstaking work on single images, or multi-layer composites, rather than quick day-to-day editing. 
However, rather than a standalone platform, these days it's available through the Adobe Cloud photography plan, which offers Lightroom as an additional option. Both work well together, with Photoshop handling complex layers-based image manipulation while Lightroom takes care of takes care of organizing and enhancing your photos.
Adobe's Photography Plan offers great tools with good value and takes some beating. For many, though, the idea of paying a subscription to use software is just too much to swallow, which is why we're going to move swiftly on to the rest of our list.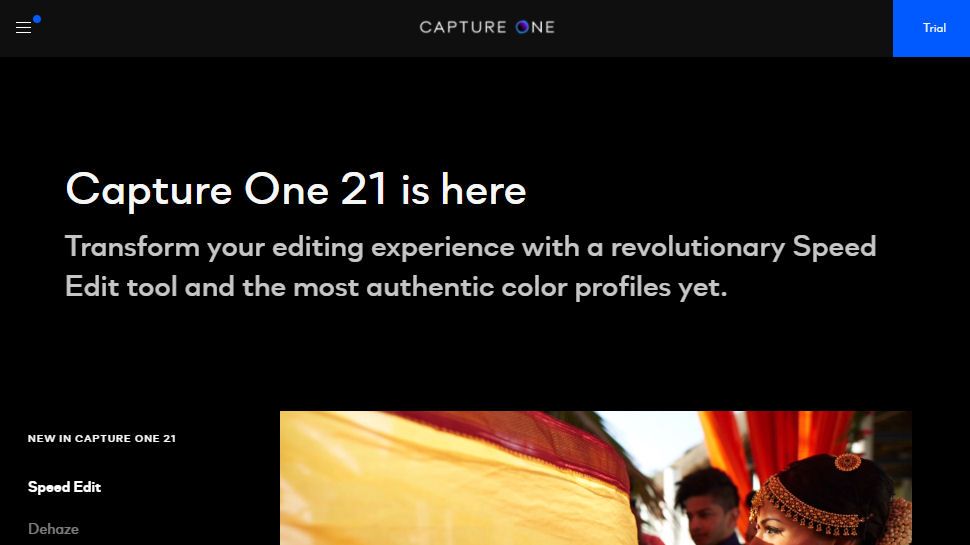 Capture One Pro covers almost exactly the same territory as Adobe Lightroom Classic, offering cataloging tools, seamless raw processing, manual image enhancement tools alongside preset effects and a non-destructive workflow that means you can revisit your adjustments at any time. 
Its raw conversions are sharper and less noisy than Adobe's, but it doesn't support such a wide range of camera raw formats or as large a number of lens correction profiles. It doesn't have Adobe's mobile apps and online synchronization options either, but it does offer professional-grade 'tethering' tools for studio photographers capturing images via a computer. 
Capture One Pro also has a better system for applying local adjustments, using adjustment layers and masks. It's expensive, but very, very good.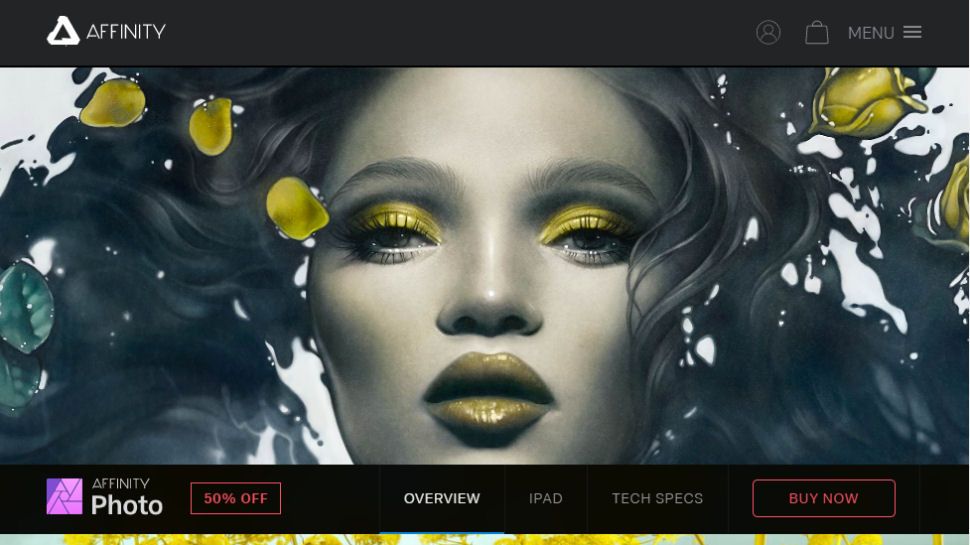 Serif built its reputation off the back of low-cost Windows versions of professional graphics tools, but with its new Affinity line it's shaken off its budget past for good. 
Affinity Photo might have a budget price, but it's a full-on, full-powered Photoshop rival for professionals, that can even teach its Adobe equivalent a trick or two. Its layering, masking and retouching tools are as powerful as Photoshop's, its filter effects can be applied 'live' and its HDR tone mapping and workspace tools are excellent. 
Like Photoshop, though, it's focused solely on in-depth, technical image manipulation. It doesn't have its own browsing and cataloguing tools and it doesn't do instant preset effects. Affinity Photo will bring the tools, but you have to bring the vision.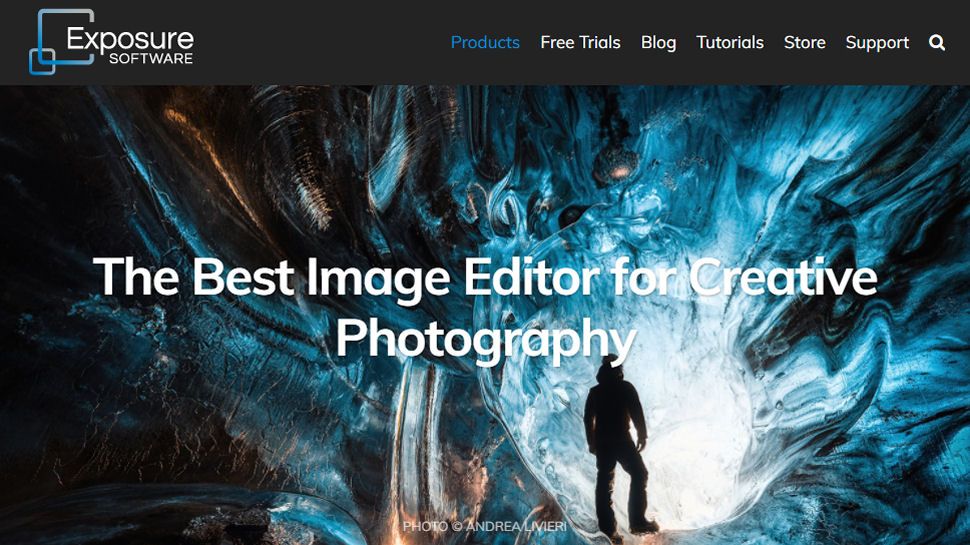 Exposure X6 offers blends old analog 'looks' with contemporary photo enhancement tools. It has a large catalog of antique and modern film effects that simulate fading, cross processing, grain, light leaks, vignetting, borders and a whole range of traditional films and processing techniques. 
These are all built using tools that can also be used for regular image enhancements, including curves, color adjustments and more. But while it offers adjustment layers for 'stacking' and blending corrections, you can't combine images. 
What you do get, though, is a fast and effective folder-browsing system for organizing your photos with all the power of filtering and keyword searches without the fuss of importing them into a catalog. 

Luminar takes an interesting approach to photo editing, offering a collection of preset effects organized into categories for those who just want to apply an instant 'look'. These are made using a collection of filters which you can combine at will to create presets of your own. It also introduces the idea of custom workspaces which you can set up for specific image types, like Black and White or Portraits. 
The raw conversions don't quite match the quality of the big three – Adobe Capture One, DxO – but they do the job and they're backed up by some great editing tools. Luminar supports both adjustment layers and image layers, so you can create Photoshop-style composite images. 
The big news is that Luminar offers image cataloging tools via Libraries and fully non-destructive editing so that you can go back and change any edit, any time.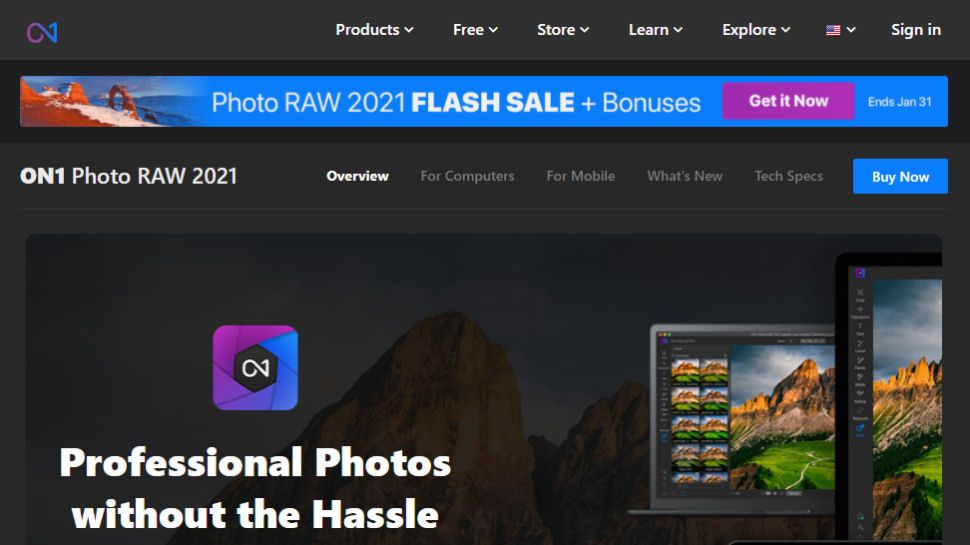 ON1 Photo RAW started out as ON1 Perfect Suite and has quickly evolved into a more modern, integrated program rather than a collection of plug-ins. 
It can still work as a plug-in for Lightroom and Photoshop, where you can browse the huge library of preset effects and manual adjustment filters to create 'looks' that the host programs can't, but ON1 Photo RAW also works as a standalone program, complete with its own image browsing/cataloging tools. 
In fact, this could be the only photo editing tool you'll ever need – though the interface text is quite small and the raw conversions don't match the quality you get from Capture One and DxO PhotoLab. 
For power, value and spectacle, though, ON1 Photo RAW is terrific, and recent versions have added AI-powered image masking and cutouts.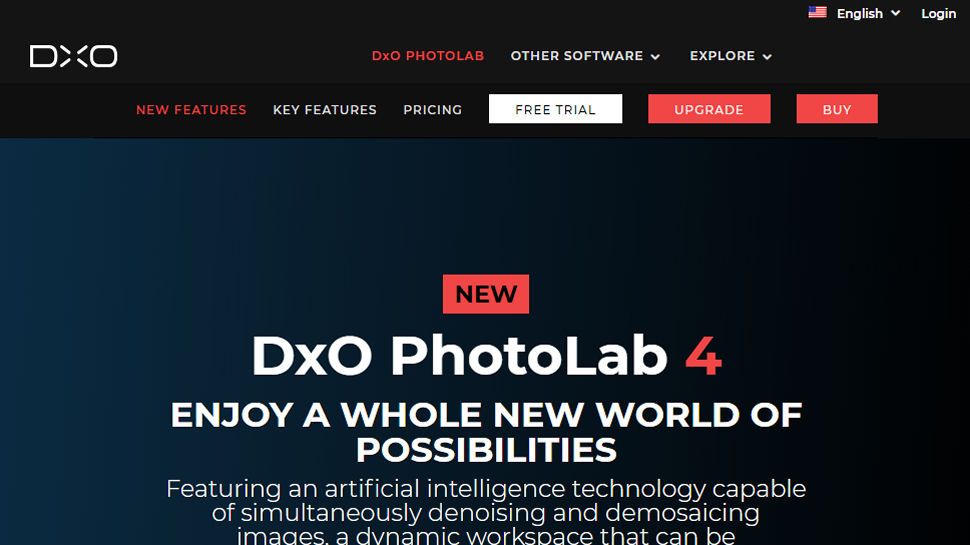 DxO Optics Pro, famous for its lab-derived lens correction profiles and awesome raw conversions, has evolved. DxO previously bought the Google Nik Collection and integrated the control point adjustment tools to bring out PhotoLab. 
The big difference between PhotoLab and Optics Pro is that you can now apply powerful localized adjustments to your images. PhotoLab doesn't have its own cataloging tools, though it does have a basic folder browser, and to get the full benefit of its raw tools, perspective corrections (DxO ViewPoint) and film 'looks' (DxO FilmPack) you need to pay extra. 
It doesn't support Fujifilm X-Trans files, either. PhotoLab's raw conversions and lens corrections are, however, quite sublime. There is also a 'PhotoLibrary' feature with an autofill search tool, but this feature still feels fairly limited.
What is photo editing?
We asked Chris Pierce, Senior Product Manager for Photo at Corel, the team behind Paintshop Pro, to give us a basic tour of what core features a photo editing software should have.
Taking great photos has never been easier. Our smartphones are equipped with incredible, high-quality cameras, meaning you can let your creativity run wild without having to spend big bucks on a DSLR. But what happens next? How can you transform your everyday photos into professional-quality masterpieces? 
While you can create amazing photos with help from apps on your phone, nothing compares to the full power of professional editing tools that give you complete control over your creativity. To unlock the full potential of professional photo editing you need to invest in desktop photo software. Let's take a look at some basic photo edits to see why they're worth your time. 
Cropping : The crop tool lets you re-frame the image after you've taken it. A simple guide to instantly give you better photos is the rule of thirds. If you didn't shoot the photo with this in mind, try cropping to adjust the focal point of the image.
Sharpening : Sharpening lets you remove blur caused by the camera lens, emphasizing texture and making your images crisp.
Adjusting hue and saturation : Hue and saturation are powerful color correcting tools. Adjust the hue to give your image a colored tint and to change the emotional impact of the photo. If you want the colors to be more or less intense, use the saturation tool. 
Contrast : The contrast tool can make an image more vivid or mute the tones for a more subdued feel. Using this in combination with hue and saturation tools will create incredible results.
Exposure : Images can suffer from lost details when a camera's light sensor records too little or too much light. Correcting overexposure prevents your images from looking too bright and washed out, while correcting underexposure lightens a photo that is too dark. While you can achieve some basic edits by using filters and apps on your phone, they don't offer the wealth of advanced tools to fully fine tune your photos. Here's what you can achieve using tools only available through desktop software. 
Layers and removing objects from photos: Quickly turn effects on and off using layers to make intricate edits without worrying about making mistakes. Remove unwanted objects that have sneaked into the image using intelligent masking tools.
Merging photos : Merge separate photos to make creative, artistic compositions. Any good photo editing Software will include specialized brushes like the Refine Brush that let you easily select detailed parts of an image like hair and grass. You can also create incredible surreal art by combining images using double exposure.
HDR : Give your photographs depth and vivid colors by combining different snaps to create High Dynamic Range (HDR) images. While simple apps are great for basic edits, they can only take you so far. To take complete control of your photo editing and workflow, you'll want to invest in desktop software. Once you start working with these powerful tools, I think you'll find it difficult to ever settle for less.
The post Best photo editors 2021: 7 options to kickstart your creativity appeared first on TechFans.