With many of us around the world continuing to work from home in 2021, you may be looking at exactly what hardware you'll need to be productive, and where to start.
In this guide, we'll walk you through all the essential kit you need to work from home successfully, as well as giving you tips and tricks on working remotely.
The need for the right equipment to make sure you're productive and happy is higher than ever given recent news, and it's not just a case of making sure you have the right laptop or smartphone to stay in contact with your bosses, co-workers, family and friends (although this is still important) but also the multitude of other items and services that will make working from home a breeze.
If this all seems a bit overwhelming, and you don't know where to start, never fear – here's our guide to everything you need to know about the tech needed to be working from home.
The best mouse for working from home
If you left your trusty mouse in the office and are feeling a little disconnected, don't worry, as a new desk buddy can be yours with our best mouse and best wireless mouse guides.
Picking the best mouse for your needs when working from home is important, as it's one of the most common ways of interacting with your PC or laptop.
You can spend hours using your mouse when working from home, so you need to make sure you have one that's comfortable to hold, as well as being fast and responsive. Even if you have a laptop with a touchpad, you may find getting a mouse will make things more comfortable.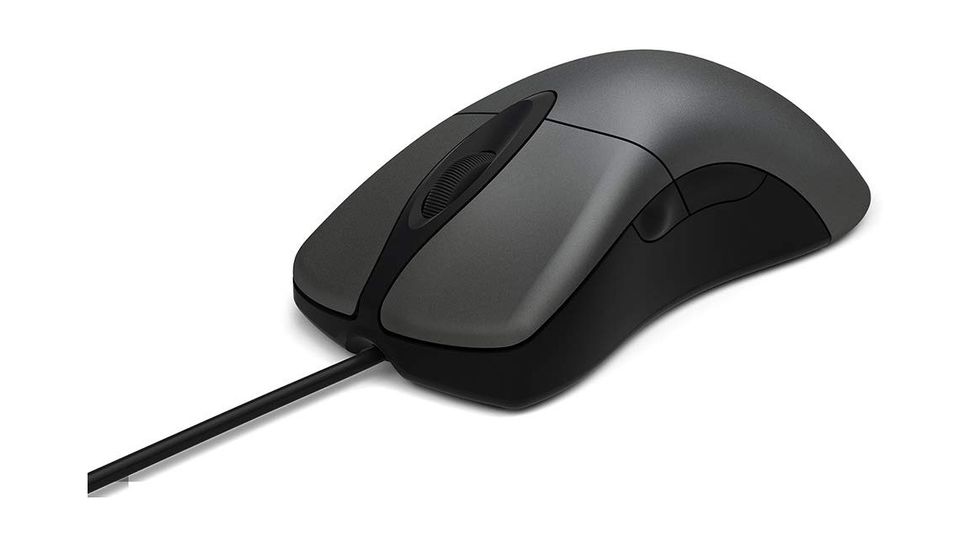 Microsoft Classic IntelliMouse
The best mouse for working from home
Specifications
DPI: 3200
Interface: Wired
Buttons: 5
Ergonomic: Right-handed
Features: Classic design, Programmable buttons, Subdued white lighting
Reasons to buy
+Solid design +Responsive 
Reasons to avoid
–Not wireless 
While it seems like all of our peripherals are either being fitted with unnecessary lighting or morphed into odd shapes, there are still some mice out there that you can take seriously from looks alone. 
The Microsoft Classic Intellimouse, for example, touts a classic design and appealing white lighting, and it is a breath of fresh air. It also beefs up the sensor, allowing users to ramp up the DPI to 3,200. It's not wireless, and it's hardly made for gaming, but if you're in the market for a mouse that'll help you get all your work done when working from home, the Microsoft Classic Intellimouse will be the best mouse for you.  
The best keyboard for working from home
As with mice, having the best keyboard for working from home is also important. You'll want something nice and comfortable, as again, you'll be using it for long periods of time.
If you're looking for an external keyboard to give you a bit more flexibility, our best keyboards guide is here for you. We've also got our guide for the best gaming keyboard, if you're looking for something that can keep up with best AAA games as well as your productivity needs.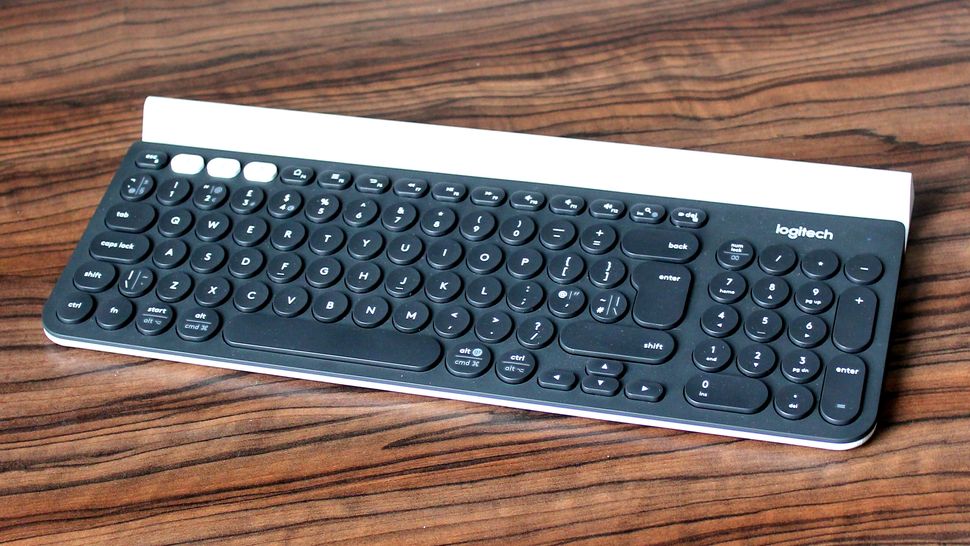 Logitech K780
The best keyboard for working from home
Specifications
Interface: Wired
Keyboard backlighting: No
Reasons to buy
+Pairs to three devices+Cradle holds smartphones and tablets
Reasons to avoid
–AA, rather than rechargeable battery
With its latest keyboard, Logitech is targeting smartphone and tablet owners who prefer to use their device while sat at a desk. And, if you were a fan of the predecessor, the K380, the Logitech K780 should be right up your alley, especially with its added number pad. 
This keyboard still has the ability to pair with three devices using Bluetooth or wireless, so you can swap between all your gadgets on the fly. And, thanks to its comfortable rounded keycaps, it's still a pleasure to type on. The keyboard's base is the star of the show, however, as it can hold mobile devices up to 11.3mm thick in an upright position. This places them within arms' reach to make anything from replying to WhatsApp messages or reading a digital magazine easier than ever. 
The best monitor for working from home
If you're one of the lucky few who enjoys a multiple-monitor set-up in the office, you may be feeling a little short-changed in home working from home has minimised your screen options. 
Luckily, adding an extra monitor is easier than ever these days, particularly if you have a docking station alongside your work laptop. Most external monitors can now be connected via HDMI, USB-C or DP ports, so if you're looking for an extra bit of screen space, check out our list of the best business monitors.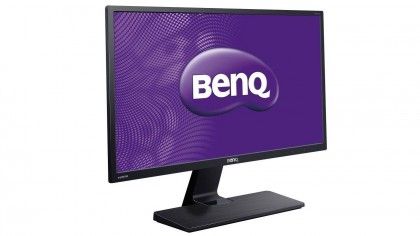 BenQ GW2270H
The best business monitor for working from home
Specifications
Screen size: 21.5-inch
Aspect ratio: 16:9
Resolution: 1,920 x 1,080
Brightness: 250 cd/m2
Response time: 5ms
Viewing angle: 178/178
Contrast ratio: 20mM:1 (DFC)
Colour support: SRGB 91%
Weight: 7.5 pounds
Reasons to buy
+Two HDMI ports+Affordable
Reasons to avoid
–No speakers–No USB hub
Again, if you've just started working from home, then you don't want to spend loads of money on a monitor. Instead, you'll want something that's affordable, yet allows you to work comfortably from home.
That's why we think the BenQ GW2270H is the best monitor for working from home. It offers the most affordable full HD monitor with an HDMI connector, and it's small and stylish that means it'll fit nicely into your home.
It has some standout features as well, to ensure you're comfortable while working from home ; one that reduces flicker (PWM technology) and a low blue light mode which may help with headaches and sleeping disorders. The stand design gives it a more expensive feel and its three ports (including two HDMI ones) are worthy of a mention, as is the two-year warranty and the VESA wall mounting option.
The best webcam for working from home
When working from home, you'll probably find you're holding just as many meetings – if not more – via video conferencing services like Skype and Google Hangouts. With these meetings, it's important to have a good quality webcam. Working from home can sometimes feel a little isolating, and video conferencing can give you some much needed human interaction.
While laptops usually come with webcams built-in, if you're using a desktop PC, you'll want to invest in the best webcam you can. Laptop owners may also want to buy a standalone webcam, as the one included in their machines might not be up to scratch, so let our best webcams guide help you out there.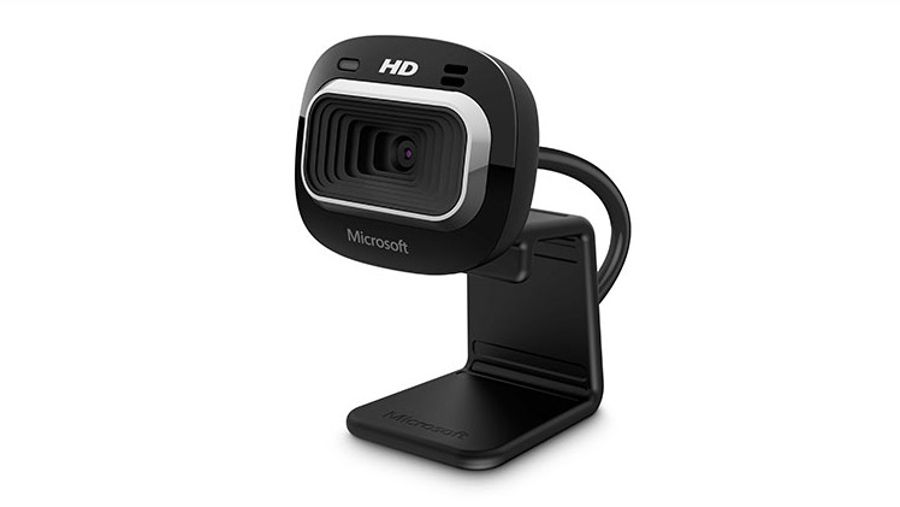 Microsoft LifeCam HD-3000
Cheap, cheerful and ideal for Skype
Specifications
Resolution: 720p
Features: Colour correction, noise cancelling
Reasons to buy
+Cheap+Cheerful
Reasons to avoid
–720p only
The Microsoft LifeCam Studio is one of the best webcams out there, and ideal for home working. Aimed at pro users with large displays, it features a familiar configuration of 1080p recording and 720p live video calling. It rotates 360 degrees, and can be mounted on a tripod with autofocus. 
The wideband mic delivers crystal clear audio, and Microsoft's TrueColor system will shift the exposure dynamically to keep you well lit, making it a great choice for business conferencing and presentations.
The best printer for working from home
If you're now working from home, one of the devices you may find you miss the most is the office printer. They're not the most glamorous of devices, but if you need to print off documents or labels, you'll soon get frustrated if you don't have a printer.
The good news is that you don't need to spend a lot of money on a great printer for day-to-day work. We've listed the best value printer below, and make sure you check out our guide to the best printers for more buying advice.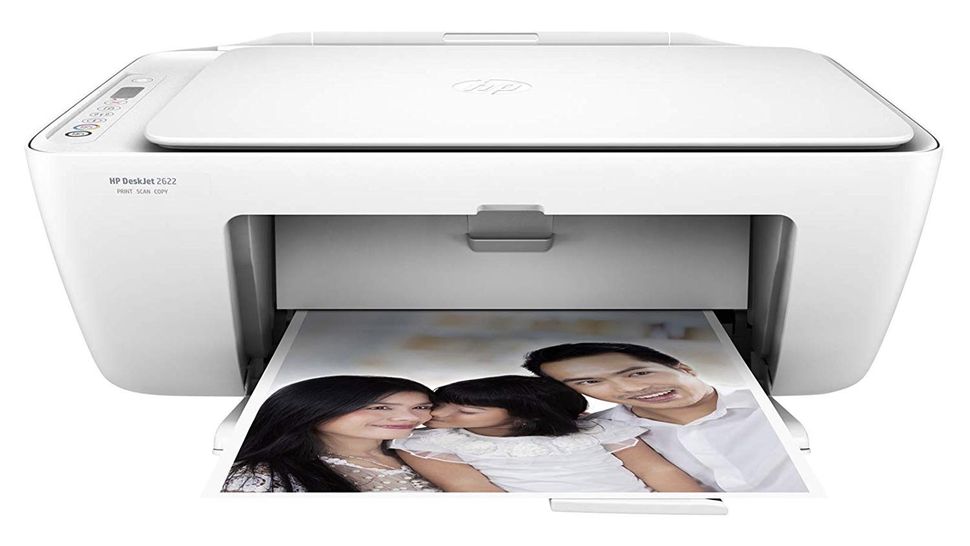 HP Deskjet 2622
The best printer for working from home
Specifications
Category: 3-in-1 colour inkjet printer
Print speed: 7
Paper sizes: A4
Paper capacity: 60 sheets
Weight: 3.4kg
Reasons to buy
+Instant Ink compatible     +Low price
Reasons to avoid
–No auto-duplex   –Combined inks
HP offers plenty of choice when it comes to all-in-one printers at this budget end of the market and this glossy white model is one of the cheapest. Nonetheless, it can print, scan and copy and offers both Wi-Fi and USB connectivity. There's no auto duplex mode and printing is rather slow, but the design is quite compact and practical. Like some other low-cost inkjets, the three coloured inks are combined in the same cartridge, which is a slight disadvantage, but the black is a pigment ink which means more durable black and white printed pages. 
The best laptop for working from home
If you're really serious about getting the best working from home setup, then you may find you want to purchase a new laptop. After all, if you're using it all day, every day, then you'll want something that is powerful, dependable and comfortable to use.
Our best laptops guide will highlight some of the top devices you can buy right now, but when it comes to working from home we thing the laptop below is the best choice.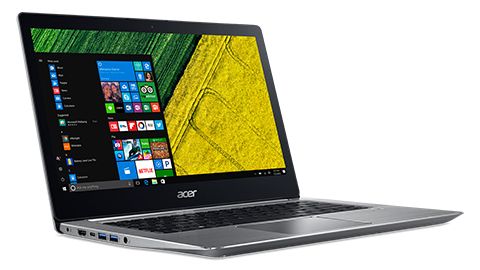 Acer Swift 3
The best laptop for working from home
Specifications
CPU: up to Intel Core i7-8565U
Graphics: Nvidia GeForce MX150, Intel HD Graphics 620 or AMD Radeon Vega 8
RAM: 4GB – 8GB
Screen: 14-inch FHD (1,920 x 1,080) ComfyView IPS – 15.6″ Full HD (1920 x 1080)
Storage: 128GB – 1 TB HDD, 16 GB Intel Optane Memory
Reasons to buy
+Superb keyboard and trackpad+Excellent performance+Very reasonably priced
Reasons to avoid
–Looks a little plain
Beyond the Acer Swift 3's modest exterior, you'll find an excellent laptop that boasts plenty of power for working from home. The Swift 3 is an inexpensive laptop; however, that plain chassis is all-aluminum and packed with beefy components. 
In terms of performance, it gets surprisingly close to the far more expensive Microsoft Surface Laptop. Its display is a little lower-res, but the two are otherwise strikingly similar – other than the price. 
This laptop is incredible to use as well, with its roomy trackpad as well as its backlit keyboard that offers a comfortable typing experience with decent travel. If you're going to be writing a lot as part of your day-to-day life working from home, this is a great choice.
The best network extender for working from home
If your home office is a bit too far away from your home router, you might benefit from a Wi-Fi extender, which can boost the signal across the rest of your house. We've selected the options of the best Wi-Fi extenders here.
These are important as when working from home, your internet connection is essential. If you struggle to get a dependable network connection where you work, then you'll soon get very frustrated. A Wi-Fi extender, or powerline adapter, is an easy way to fix this.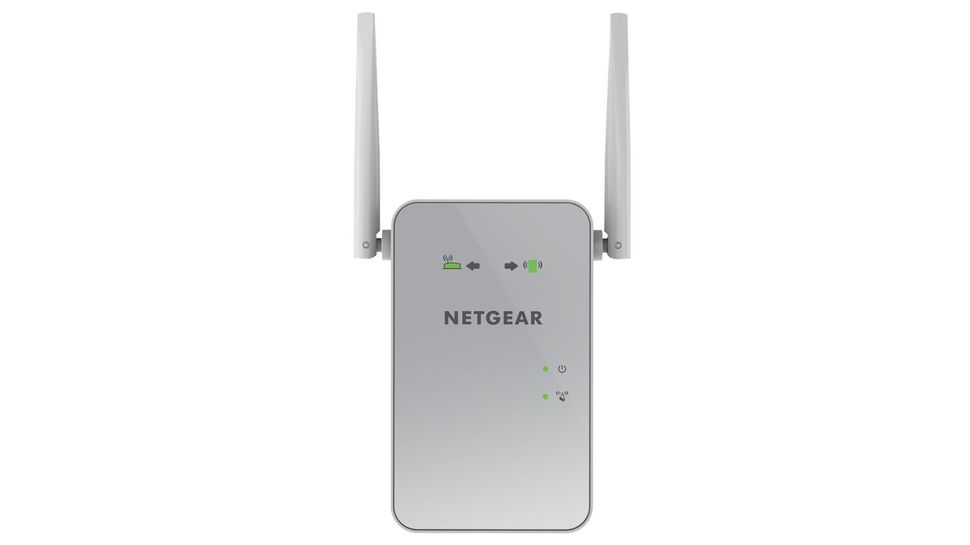 Netgear AC1200 WiFi Range Extender EX6150
The best network extender for working from home
Specifications
Bands: 802.11ac 5GHz and 2.4GHz
Connectivity: 1 x Gigabit Ethernet port
Features: Wi-Fi Protected Access (WPS), Extender/Access Point mode switch, power button
Reasons to buy
+Super simple setup+Compact design
Reasons to avoid
–Pricey–Only one Ethernet port
Over the last couple years, Netgear has essentially turned itself into a household name in the networking world. And, they've put their extensive expertise to impressive use with their AC1200 Wi-Fi Range Extender EX6150.
This terrific extender is a simple device that you can discreetly plug right into any electrical outlet, and definitely has our vote for one of the best Wi-Fi extenders. As an additional bonus, the EX6150 boasts quick and easy installation, free of any hassling installation software. Just follow the easy-to-read instructions and you'll have fast and dependable Wi-Fi covering your entire home or office.
Best office setup for working from home
It may sound obvious, but having the right office set-up can make all the difference to your working from home productivity – and this can start with your chair and desk.
Making sure you're comfortable whilst your work isn't just a good idea for your fitness and general well-being, but will also make it less of a chore to sign in every morning – and help you stave off the temptation to slope off to the sofa after lunchtime.
We've rounded up our choice of the best office chairs in our guide, focusing on ergonomic desk chairs that should ensure you don't end up with cramps or strains – and a list of the best standing chairs for those looking for something a bit different.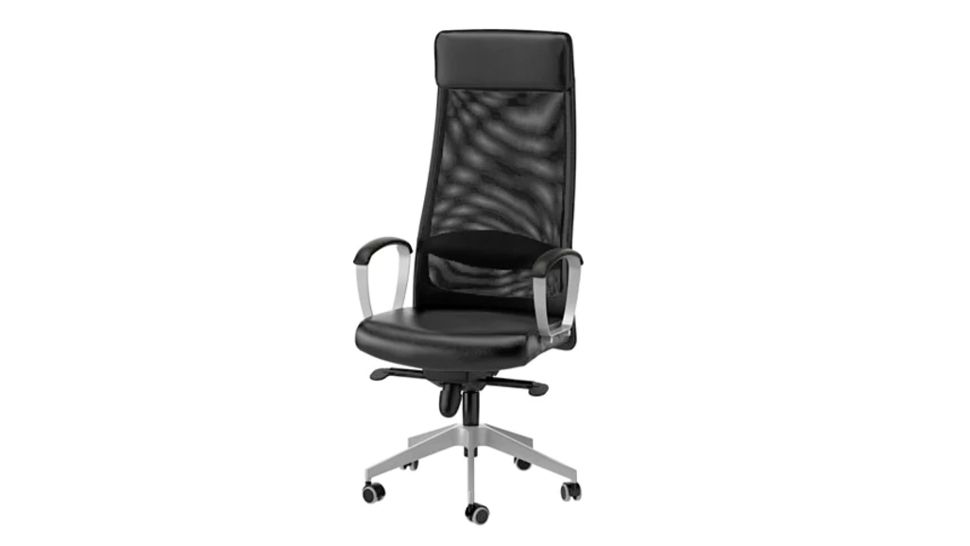 IKEA Markus
The best office chair for working from home
Specifications
Dimensions: 62 x 60 x 129-140cm (W x D x H)
Seat height: 48 – 57cm (minimum to maximum)
Maximum load: 110kg
Reasons to buy
+Budget-friendly offering+Yet still has a 10-year warranty
Reasons to avoid
–Not many adjustments available–Fairly basic in nature
For those whose wallets are cowering at the price of some of the more expensive ergonomic chairs out there, IKEA's Markus is doubtless a welcome spot of fiscal relief.
Unsurprisingly, you don't get much in the way of fancy adjustments, but this is a sturdy chair which is well liked by many people, and offers a comfortable upright sitting position, with a long back and integrated headrest. The back is made of a mesh material to let the air through and provide better breathability.
There are some adjustments available to the user: you can adjust the seat for height, tilt, and the back can be locked in place, or it can be reclined. Other than that, this is a fairly basic chair, but well-made for the money – it costs a fraction of some of the higher-end seating options.
An unexpected bonus in this price bracket (around the £150 mark – that's about $190) is that the Markus comes with an impressive 10-year guarantee.
You can buy the Markus at IKEA
If you're feeling particularly active, and missing those lunchtime gym sessions, there's also the option of a standing desk, which can help bring a bit of variation into your new home office set-up. 
So if you're hunting for something different – we've selected the best standing desk options around.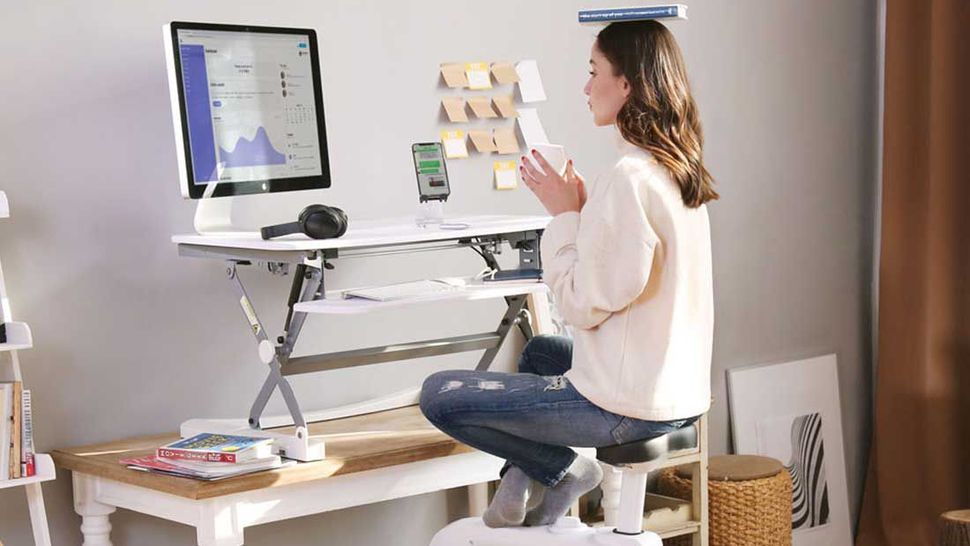 FlexiSpot ClassicRiser Standing Desk Converter
The best standing desk for working from home
Specifications
Type: Manual
Height range: 5.9-inches – 19.7-inches (on top of existing desk) for M1 size
Desktop size: 26.8-inches x 23.2-inches for M1 size
Reasons to buy
+Wallet-friendly+Range of different sizes+Removable keyboard tray
If you're working from home and don't want to spend a huge amount of money on a standing desk, then check out the FlexiSpot ClassicRiser. This is a manually adjustable model, which is obviously where a lot of the cost-savings come into play, but it's still a nifty solution nonetheless, despite being considerably cheaper.
The ClassicRiser is easy enough to operate when raising or lowering the platform, which is achieved with a light squeeze on a lever at the side, and like the Uplift, it has a wide keyboard tray below the main platform (although this is removable).
You can select from different-sized platforms from the smallest 27-inch (M1) offering up to 47-inches (M3), with a range of various options available including monitor arms, anti-fatigue mats, and indeed an under-desk exercise bike. The M1 model is unsurprisingly the cheapest, but it doesn't cost much more to ramp up the size to an M3.
Best software for working from home
Once your new hardware is all sorted, now it's time to make sure that you have all the right software and services to make working from home a breeze.
Many of you will have already been set up with online office suites, collaboration tools, videoconferencing software and the like, but for anyone working from home for the first time, you may be missing some crucial options – so here's our guide to the software you can't be without.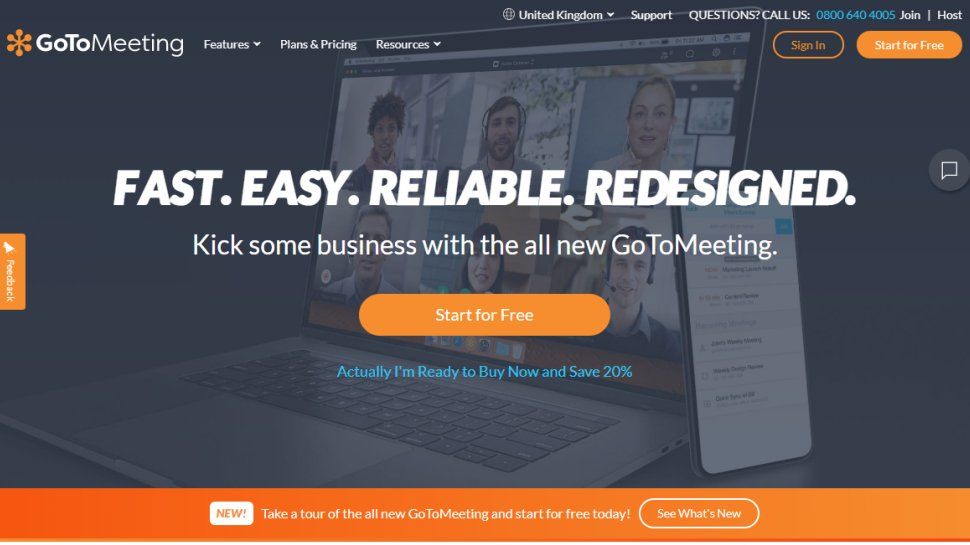 GoToMeeting
The best video conferencing software for working from home
Reasons to buy
+Mobile friendly+Good apps+VoIP upgrade
With employees around the world all now working from home, staying in touch is paramount to ensure all the usual company work gets done effectively and on time. With face-to-face meetings off the table, videoconferencing is now the best bet to help you all stay up to speed.
There are a number of popular tools out there today – and many of us will have used the likes of Zoom, Skype for Business or Google Meet already. But new measures may call for new tactics, so if you need a run-down of the best videoconferencing software out there today.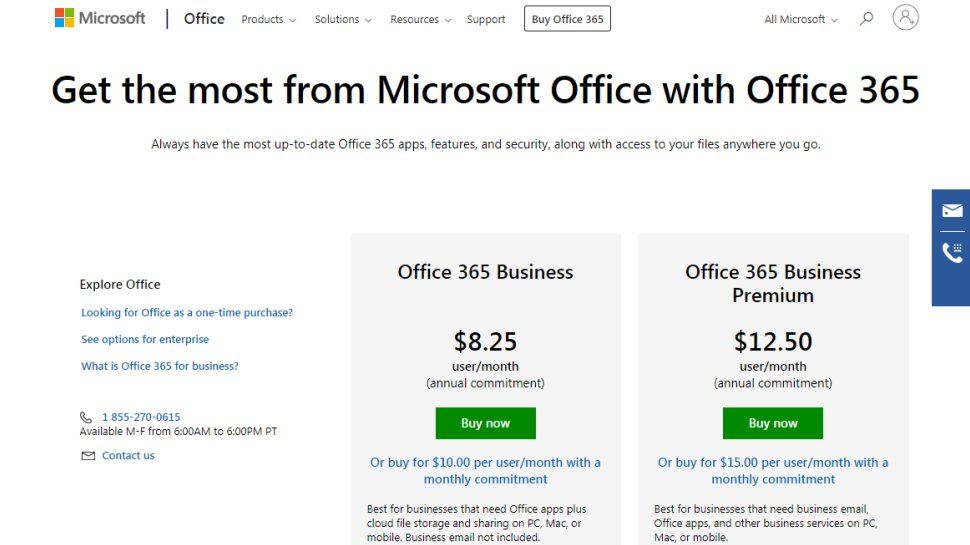 Office 365
The best online collaboration tool for working from home
Reasons to buy
+Familiar software+Collaborative editing+Teams provides UC+Cost-effective bundling
It isn't just meetings that need rescheduling – everyday messaging and contact also needs a working from home makeover. Now we can't just walk over to somebody's desk to get an update or have a chat, the need for real-time collaboration tools is key. 
The likes of Slack and Asana are already popular choices, but if you want more options, check out our guide to the best online collaboration tools around.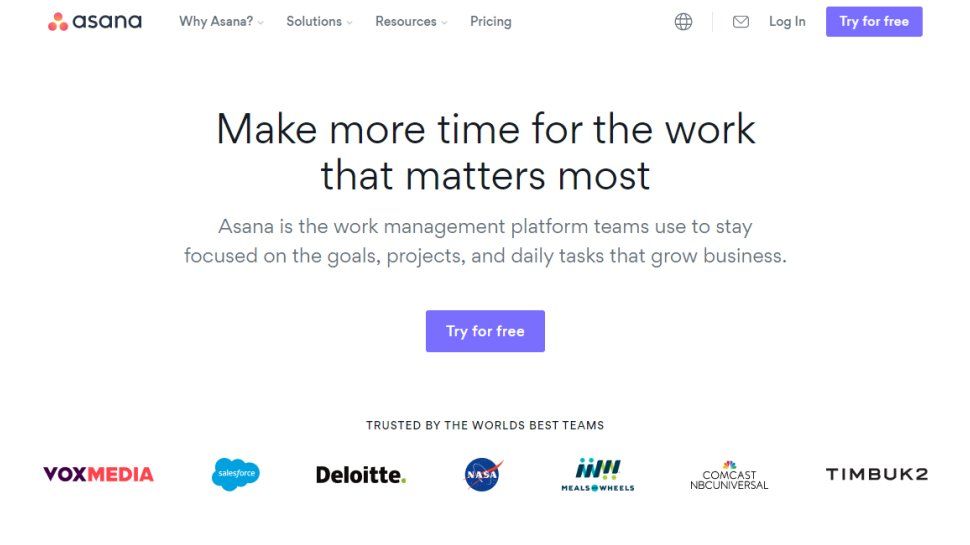 Asana
The best project management software for working from home
Reasons to buy
+Handy tracking functions+Cloud-based
Reasons to avoid
–Team-oriented
Lastly, keeping track of all your projects is again trickier without face-to-face interaction, but luckily there are a raft of options available to help ameliorate this. 
Our best project management software guide has all the tools and services you need to keep your team up to speed with progress.
The post How to work from home: everything you need for remote working appeared first on TechFans.